Contenido
When scuba diving in La Gomera everything that is bad remains on the surface due to the tranquility of its waters and the beauty of its seabed with completely virgin species and natural habitats of volcanic origin. In addition, the quality of the sea water of La Gomera is excellent to the point of having obtained numerous blue flags, the European distinction guaranteeing that it is clean and meets environmental conditions. Therefore, enjoying scuba diving in this sea provides an experience that relaxes the body and mind. 

Imágenes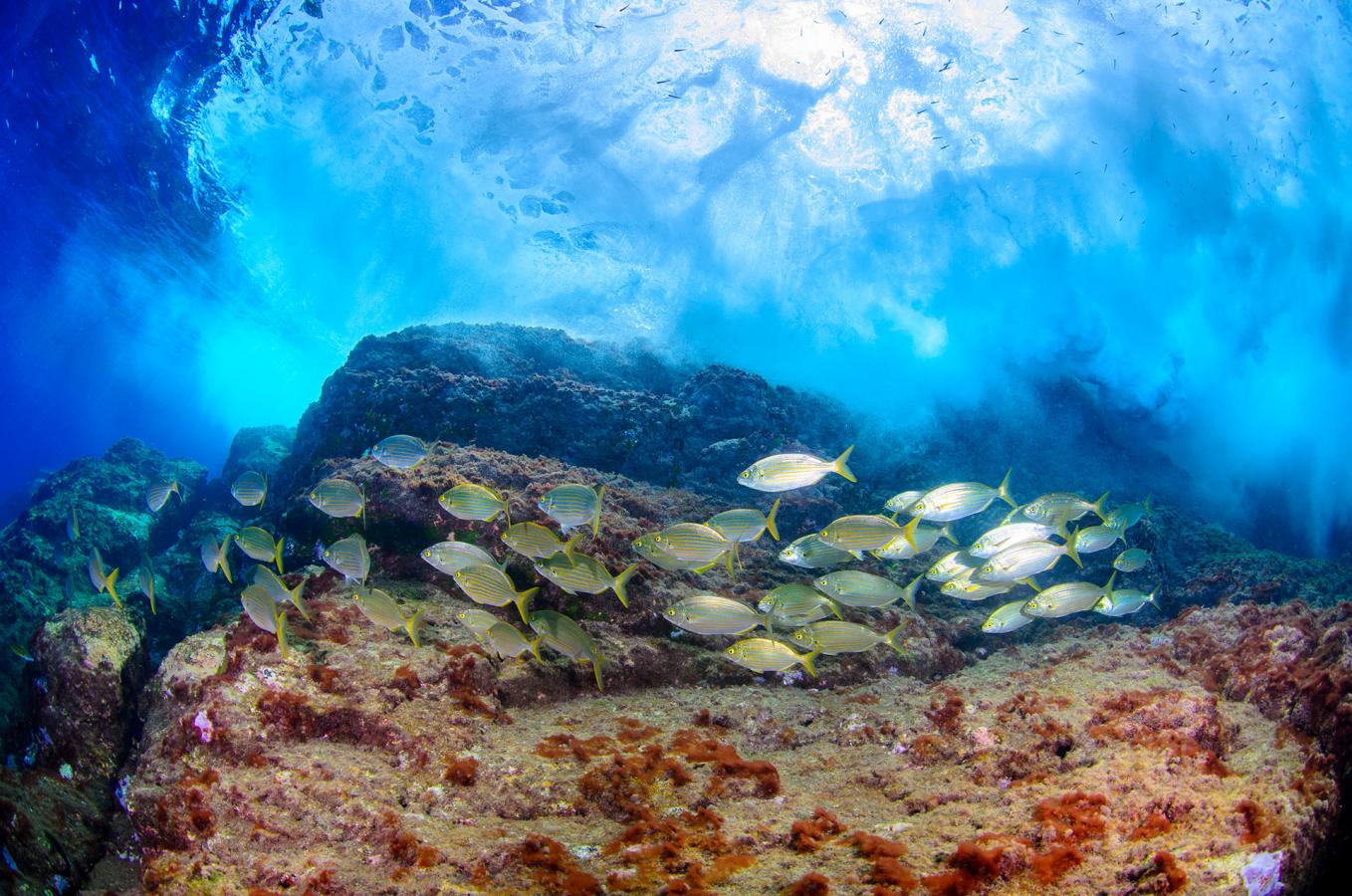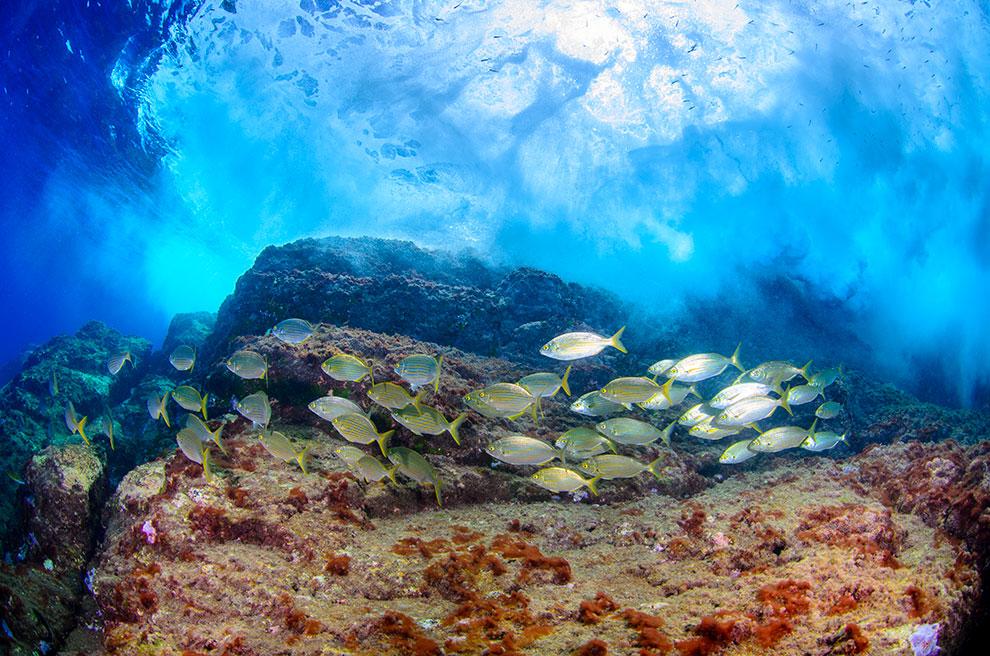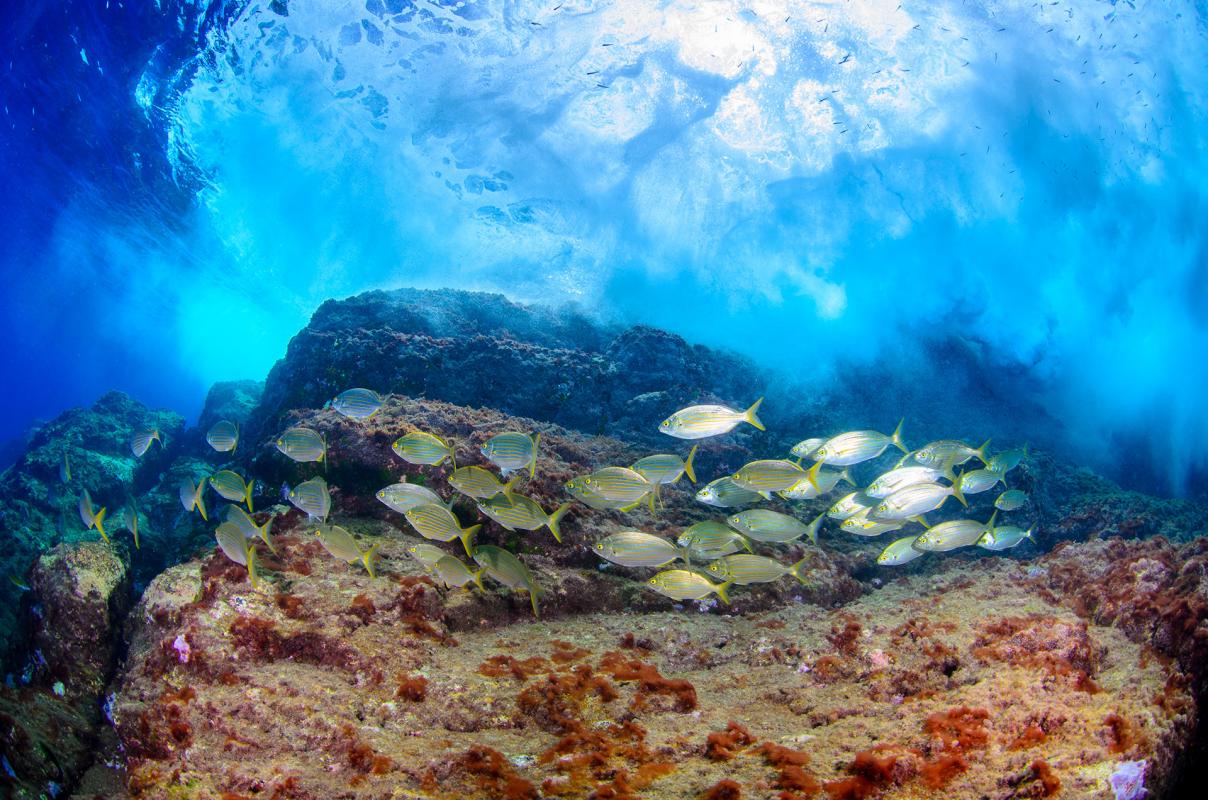 Contenido
Scuba Diving Equipment
The best way to scuba dive is to have complete equipment. This consists of the BCD, compressed air cylinder, the regulator and octopus, a depth gauge, diving clothing, ballast, diving mask and snorkel as well as swimmers or fins. Marcos Jesús Pérez Castro, a scuba diving instructor from La Gomera, explains that although "this is ideal, we can dive safely with a regulator, a hydrostatic vest, which gives us buoyancy, and a scuba diving computer. This goes on the wrist and gives us the submersion data." Given the beauty of the underwater depths of La Gomera we will be glad to carry plastic cases to take underwater photos and videos, as these protect the technology up to 15 meters deep.
Contenido
Pre-Dive Instructions
Before scuba diving, it is important to have eaten so that the body has strength, since we will be underwater for at least 40 minutes. It is also advisable to check that the air is being consumed in a way that is appropriate for the dive we are doing. Diving is done in pairs, so we will not lose sight of each other and every so often we communicate gesturally with one another. The best way to see fish is not to move your hands, but to swim only with the help of your fins, as they are easily frightened away. It is not necessary to be in athletic shape, but it is necessary to have some swimming form to dive down the depth to which we will descend.
Contenido
Age and Depth
Contemplating marine life is the best way to teach children to respect the marine environment in order to keep its biodiversity safe. The dives are performed from a boat in the sea, very close to blue flag beaches such as Santiago, in the municipality of Alajeró. The blue flag beaches of La Cueva and San Sebastián, in San Sebastián de La Gomera, are ideal for diving initiation on the shore for children from 8 years old. They are protected from currents and offer a first approach to the underwater world that they will not forget, with dives to a maximum of 12 meters. From the age of 12, boys and girls can take the PADI Open Water Diver course, which allows them to obtain the certification to dive to a maximum depth of 18 meters. The limit for recreational diving with adult certification is 40 meters. 
Contenido
Marine Species
The tranquility and beauty of the seabed of La Gomera allows you to enjoy the almost mystical experience of diving very close to the fish of the Atlantic Ocean, such as trumpet fish, parrot fish and tiger fish or brown and black moray eels, including the fangtooth moray. We will also see puffer fish and different types of anemones or lobster and European lobster, of large size in these waters, as well as different species of sea turtles, manta rays and sharks. We can approach them and they can approach us, and they look at us with curiosity. According to Jesús Pérez Castro, while diving on the island he has seen "thirty or forty species in a single dive, swimming among algae, multicolored borgoñas, corals, volcanic arches and caves that you can enter." 
Imágenes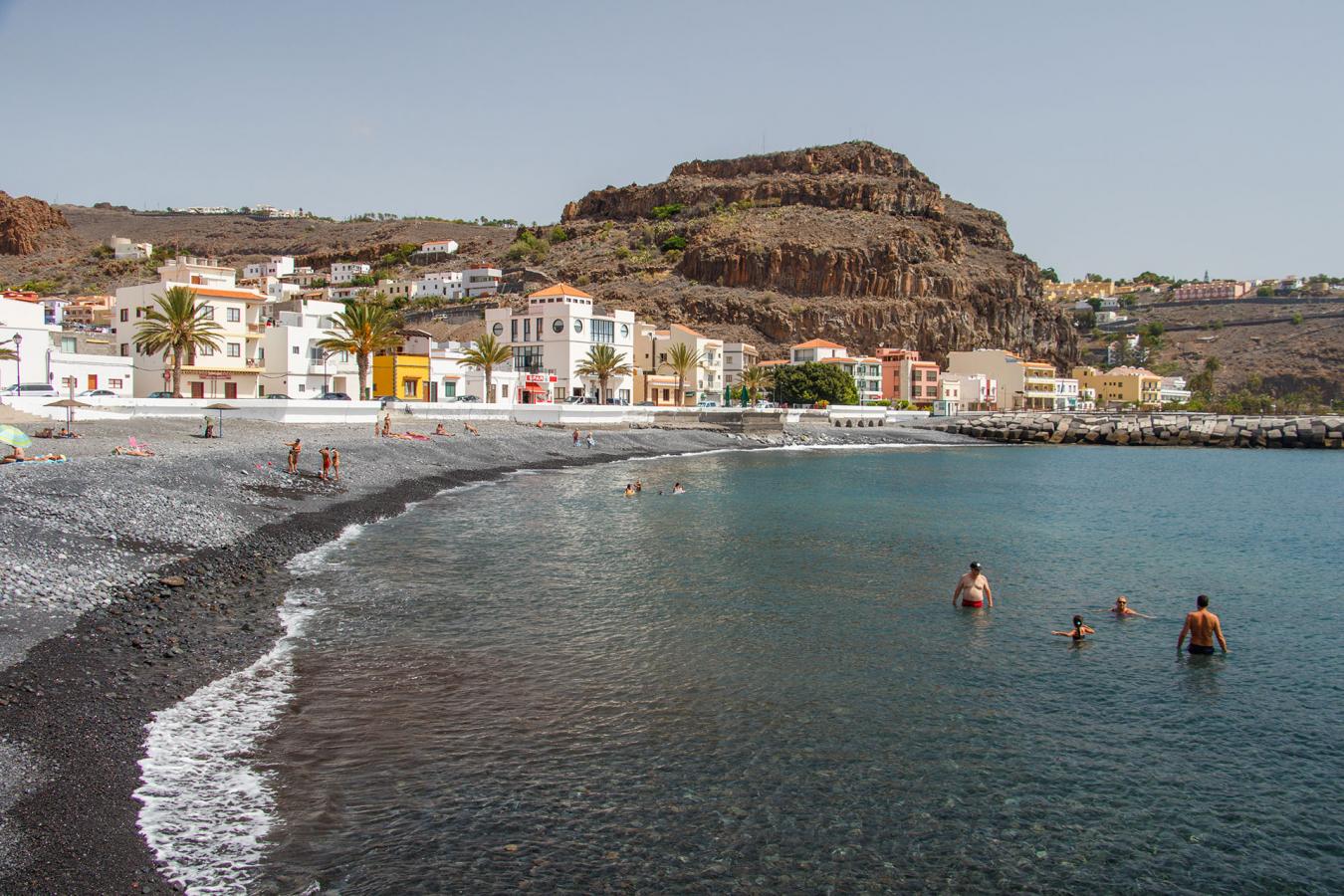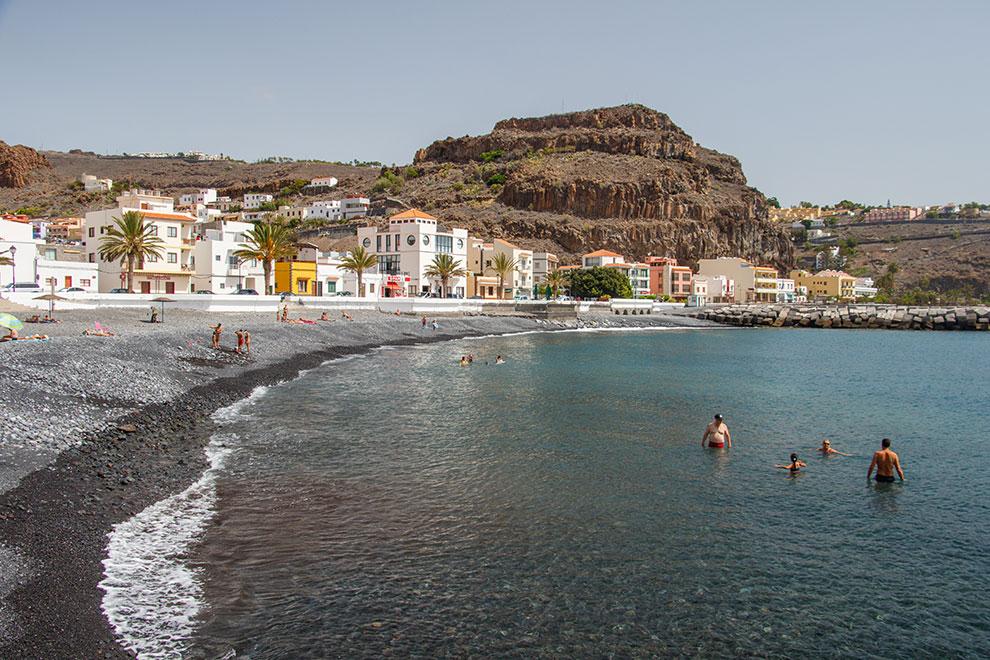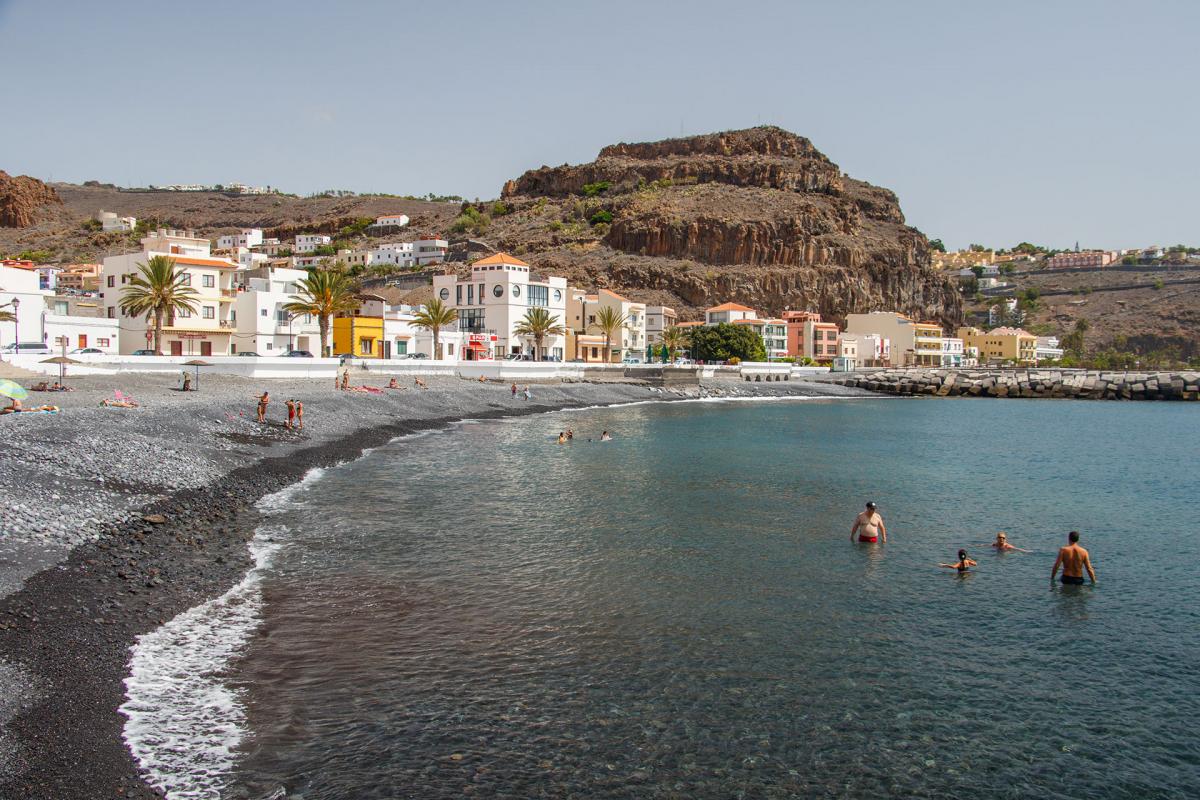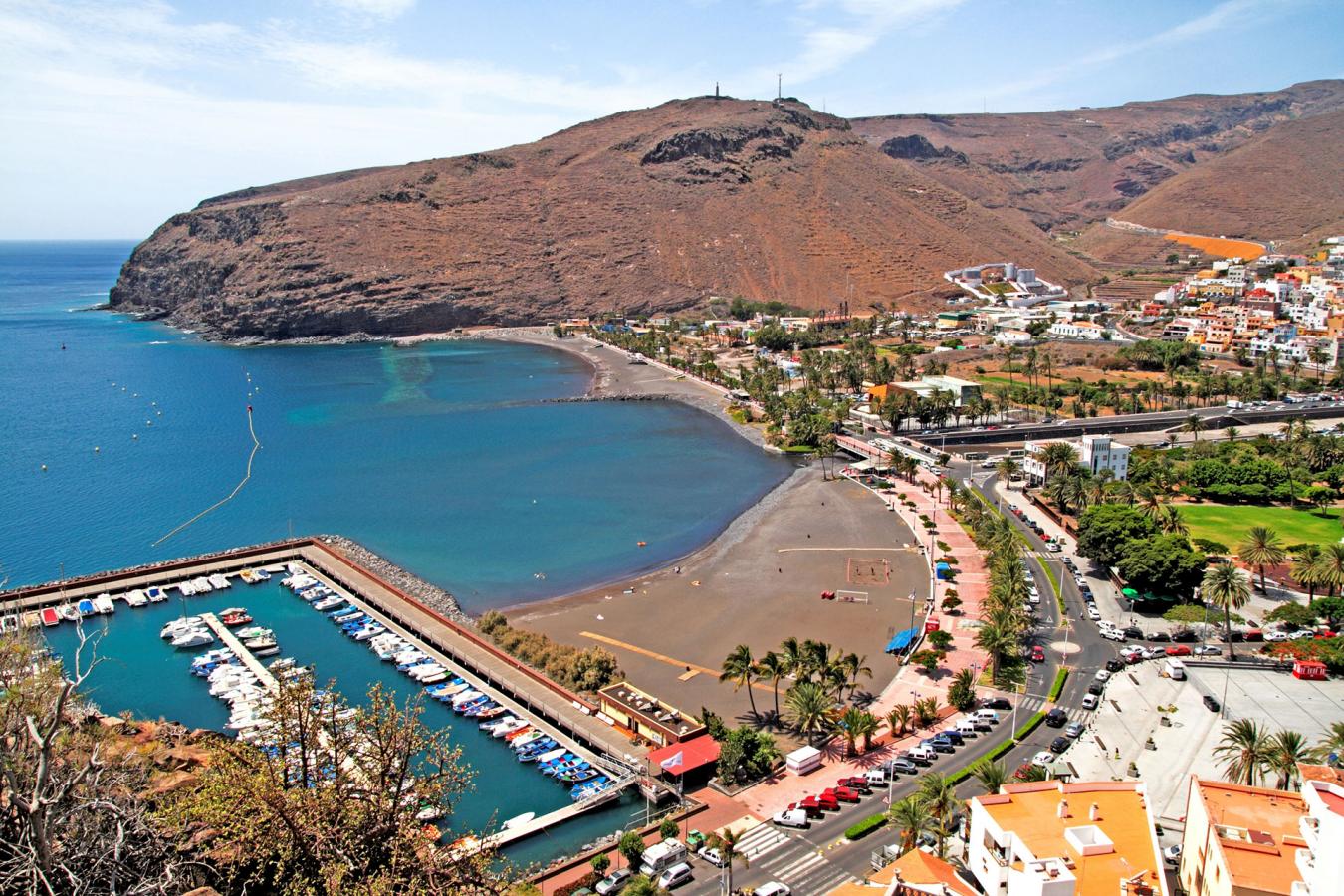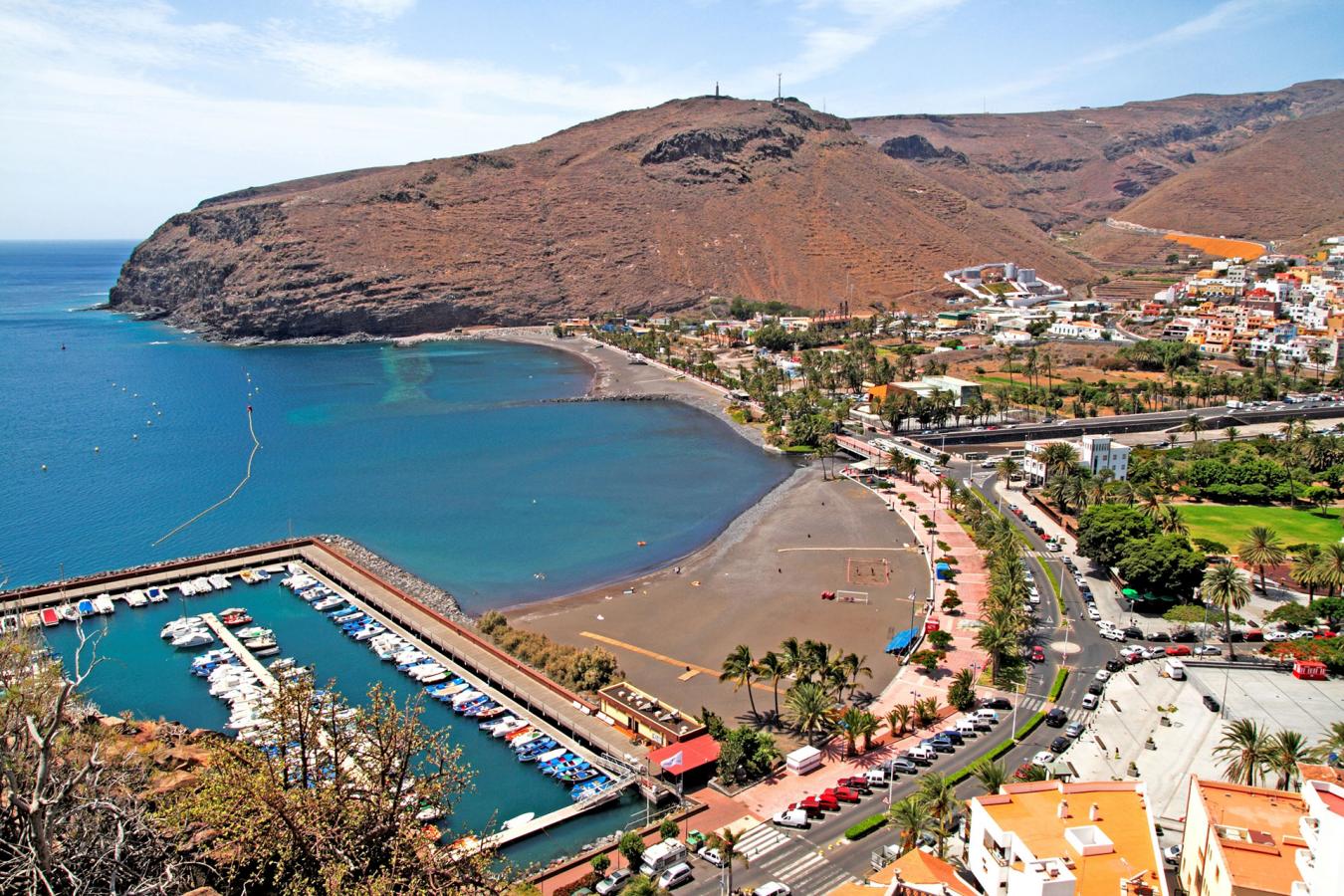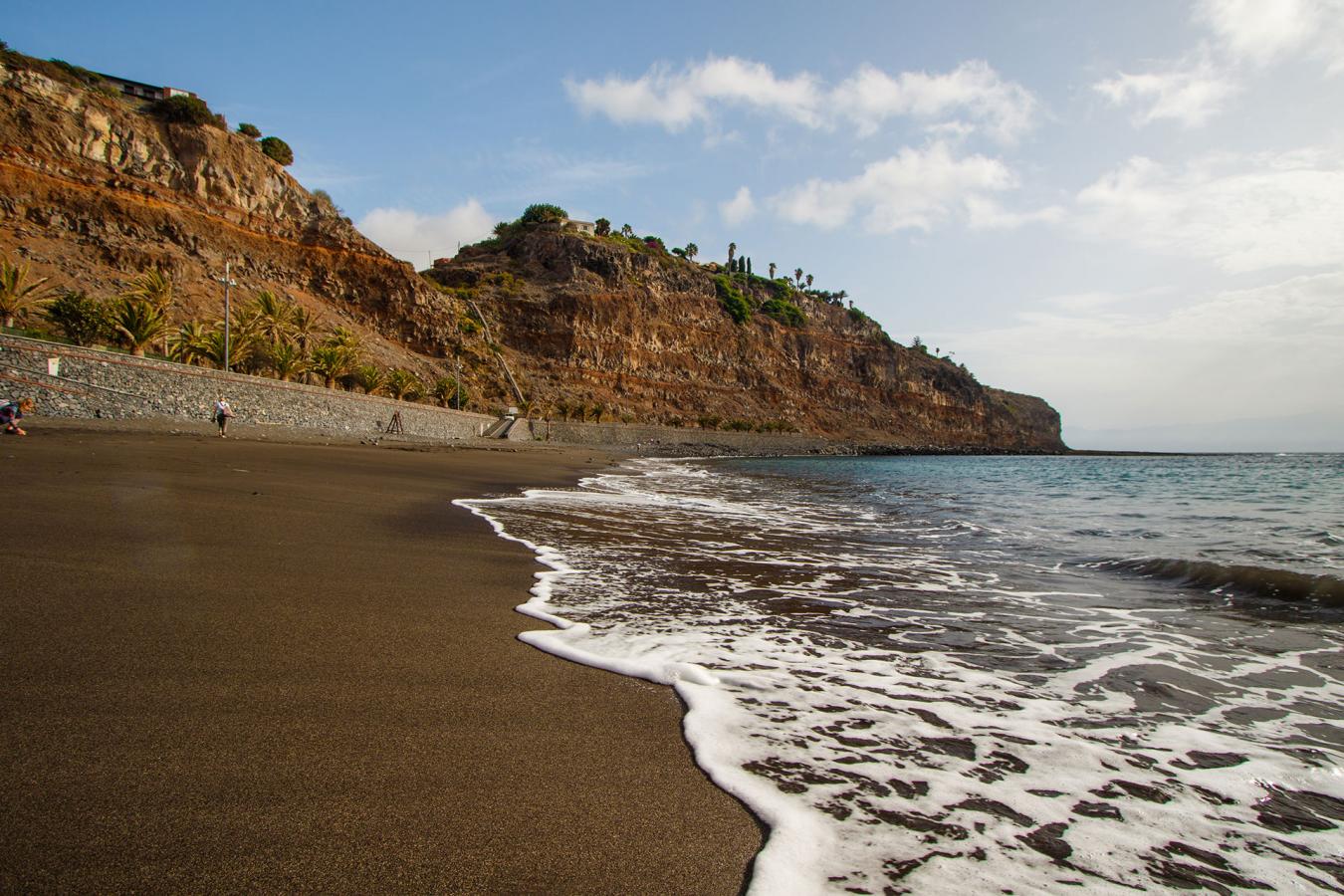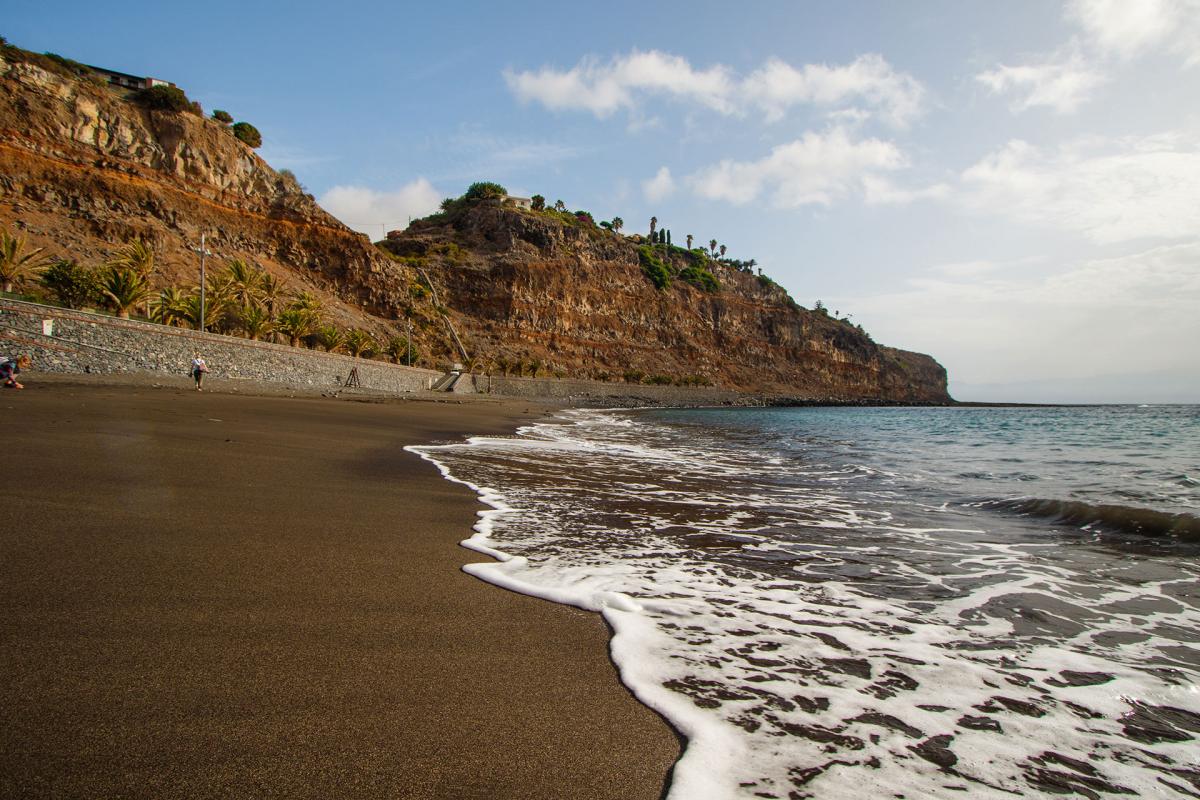 Imágenes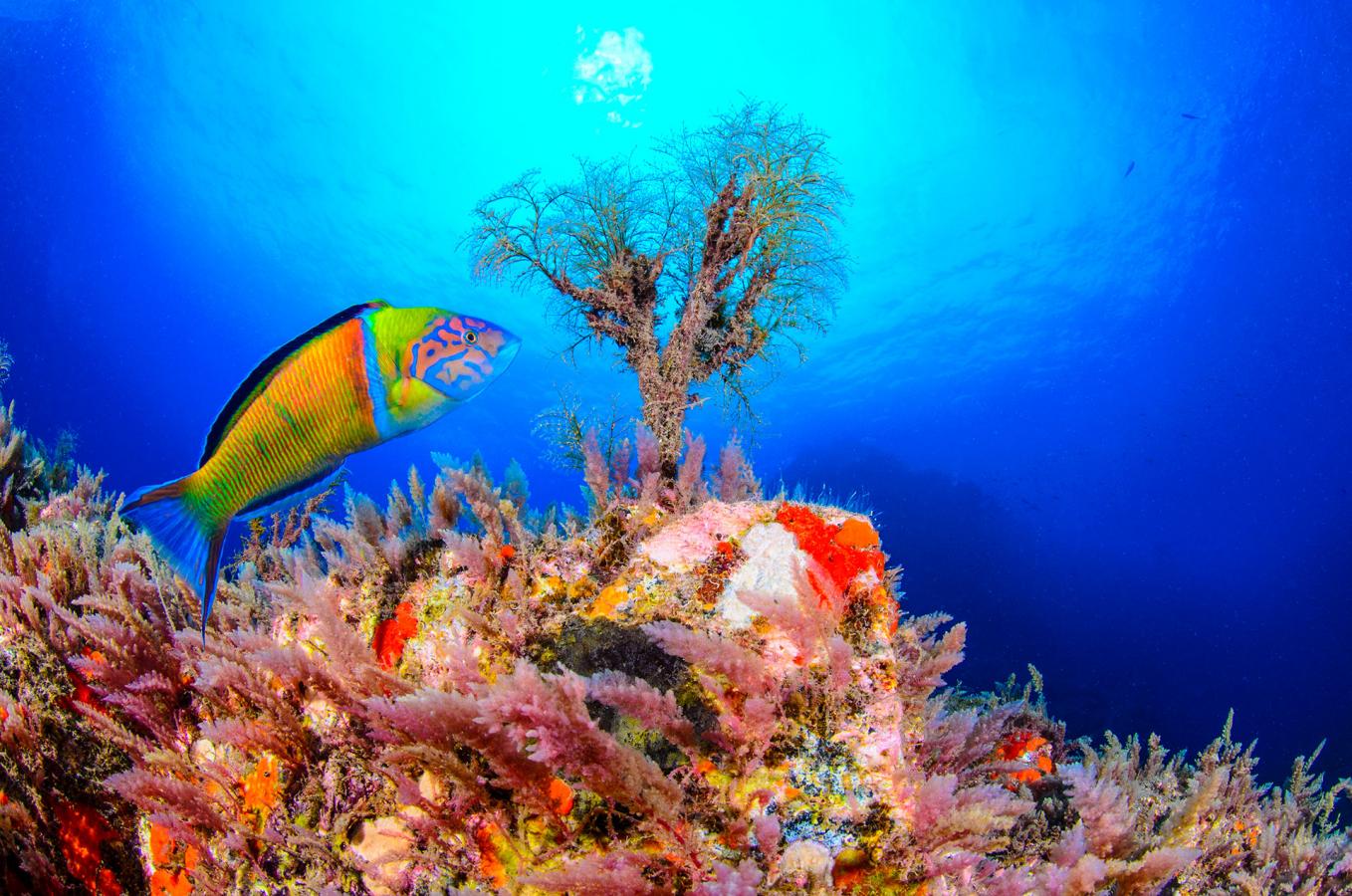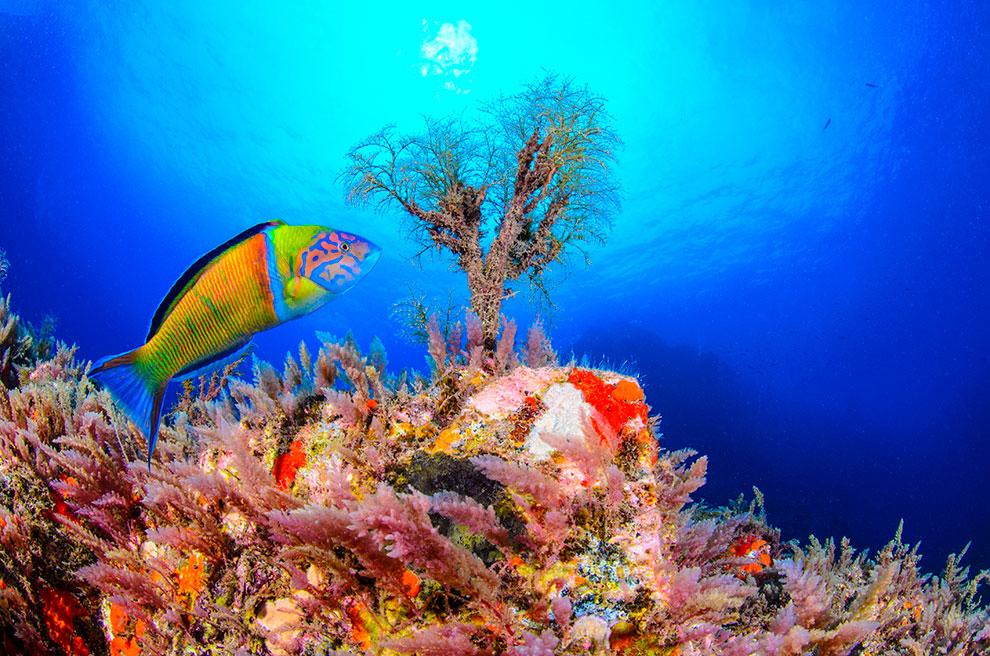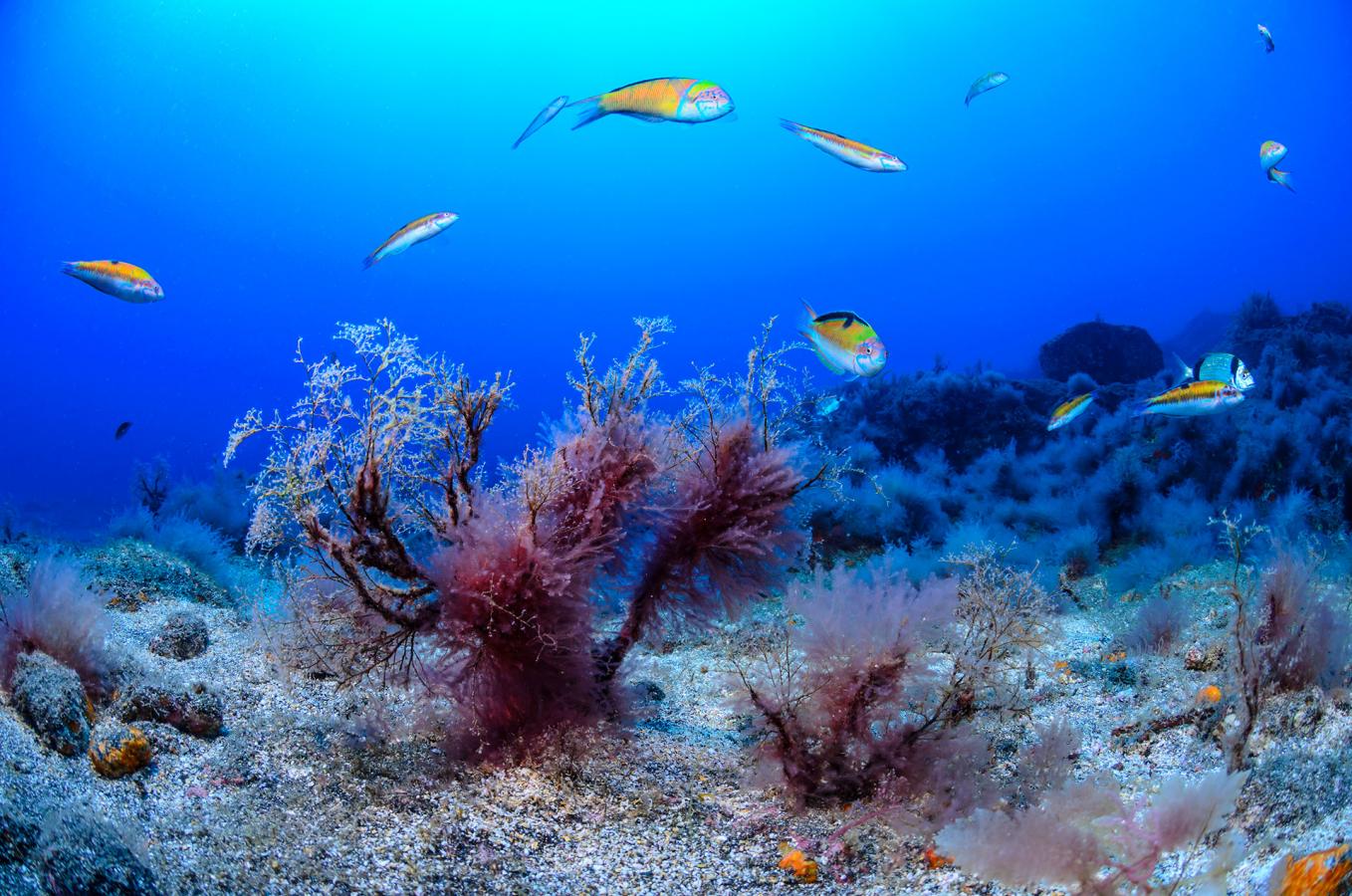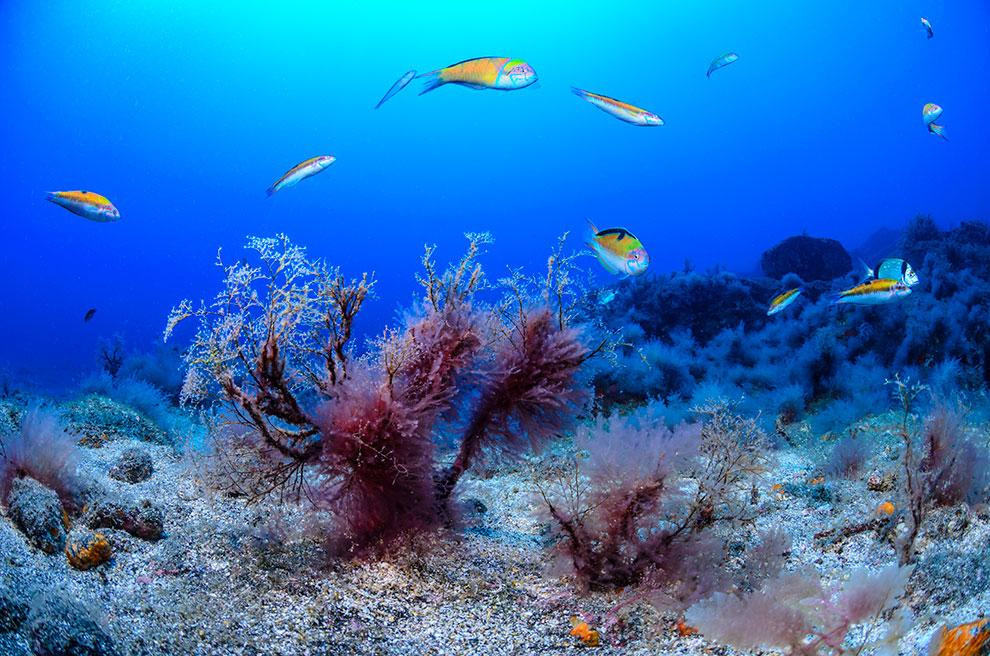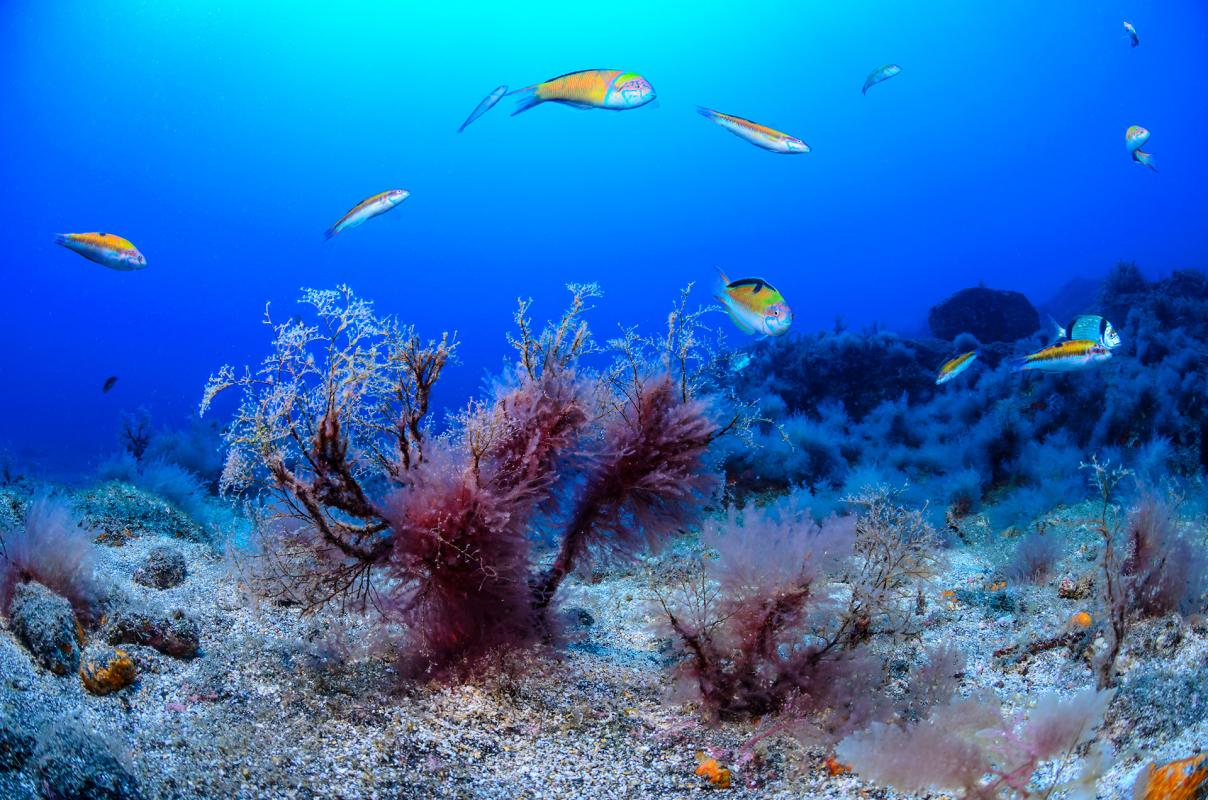 Contenido
Unforgettable Routes
The waters near the Los Órganos Natural Monument, in the town of Vallehermoso, offer an authentic natural spectacle above and below the surface. In this municipality there is also the Roque Iguala route, with high walls and small caves. Also noteworthy are Punta Majona and Roque del Hero, in Hermigua, where we found many fissures and grooves from 22 meters.  
The rocky bottoms of Punta Nariz, in Alajeró, have a great variety of fauna. In addition to La Cuevita Beach in San Sebastian de La Gomera, Punta de Gaviota is another recommended starting point with spectacular rock formations that can be enjoyed by all levels of diving certification. Also the beach of Valle Gran Rey, with spectacular sea bottoms, as well as the beach of San Marcos, in Agulo, a virgin spot with crystalline waters.  
In addition, the waters surrounding La Gomera hold the remains of sunken shipwrecks, some even with mascarons to enter them where marine species swim freely. The Pulga sank in the 18th century near the beach of Vallermoso. According to the chronicles, this vessel could have acted as a privateer and had several bronze cannons that were recovered more than 50 years ago. The wooden steamship Astur Galaico sank in the shallows between San Sebastián and Hermigua in 1931, of which the submerged remains are still preserved.
Imágenes